Published 25th august 2022
According to a report published by Statista, 6.6 billion mobile users worldwide spend half of their time on the internet. More reports state that we have 2.89 million mobile applications available for download on the Google Play Store and Apple store.
The average user spends about 4 hours daily using mobile apps.
A few reports say that we have 2.89 million applications available for download on the Google Play Store.
What Is User Interface (UI) Design?
User interface (UI) design is the process of building interfaces in software or computer devices. In simple terms, it's about creating the look of something while factoring in usability and aesthetics.
User interface can be defined as a series of screens, pages, and visual elements, including buttons and icons that facilitate user interaction with a product or service.
It comprises buttons, pictures, recordings, and texts, laying the foundation for how the application functions.
The primary objective of a UI designer is to make an interface that instantly connects the user to the service while ensuring a seamless experience.
You can always refer to the timeless commandments for good design by Dieter.
What Is User Experience (UX) Design?
UX design is the process of enhancing the overall user experience when they interact with the mobile application, providing exceptional customer satisfaction. It is about creating human-centric design prototypes and frameworks for the application. In a nutshell, UX is all about making digital products usable and practical with the simplest possible visual styling.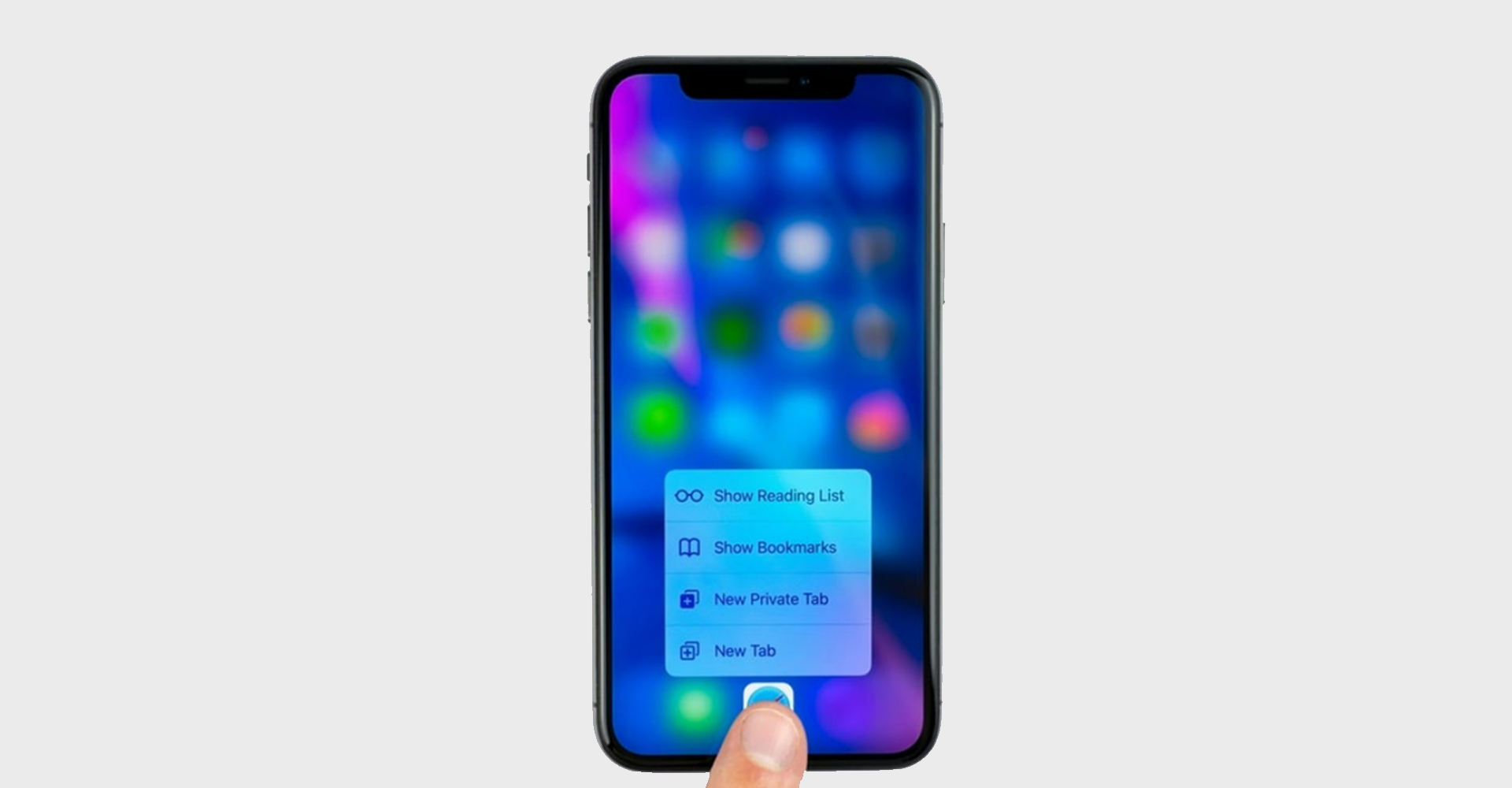 60% of products have issues that could be solved through usability. UX review is the best way of validating your product
HERE IS WHY AN APP'S UI/UX DESIGN IS SO IMPORTANT FOR YOUR BUSINESS GROWTH
Drives More Traffic
According to Thinkwithgoogle, over 50% of traffic comes from mobile devices.
A well-crafted mobile application with captivating UI/ UX can accelerate the power to drive enormous traffic to your mobile application. Therefore, your products and services look better, and customers stay connected to it. To stay ahead of the competition, your app must be the voice of your business with a UI / UX app design that represents it well.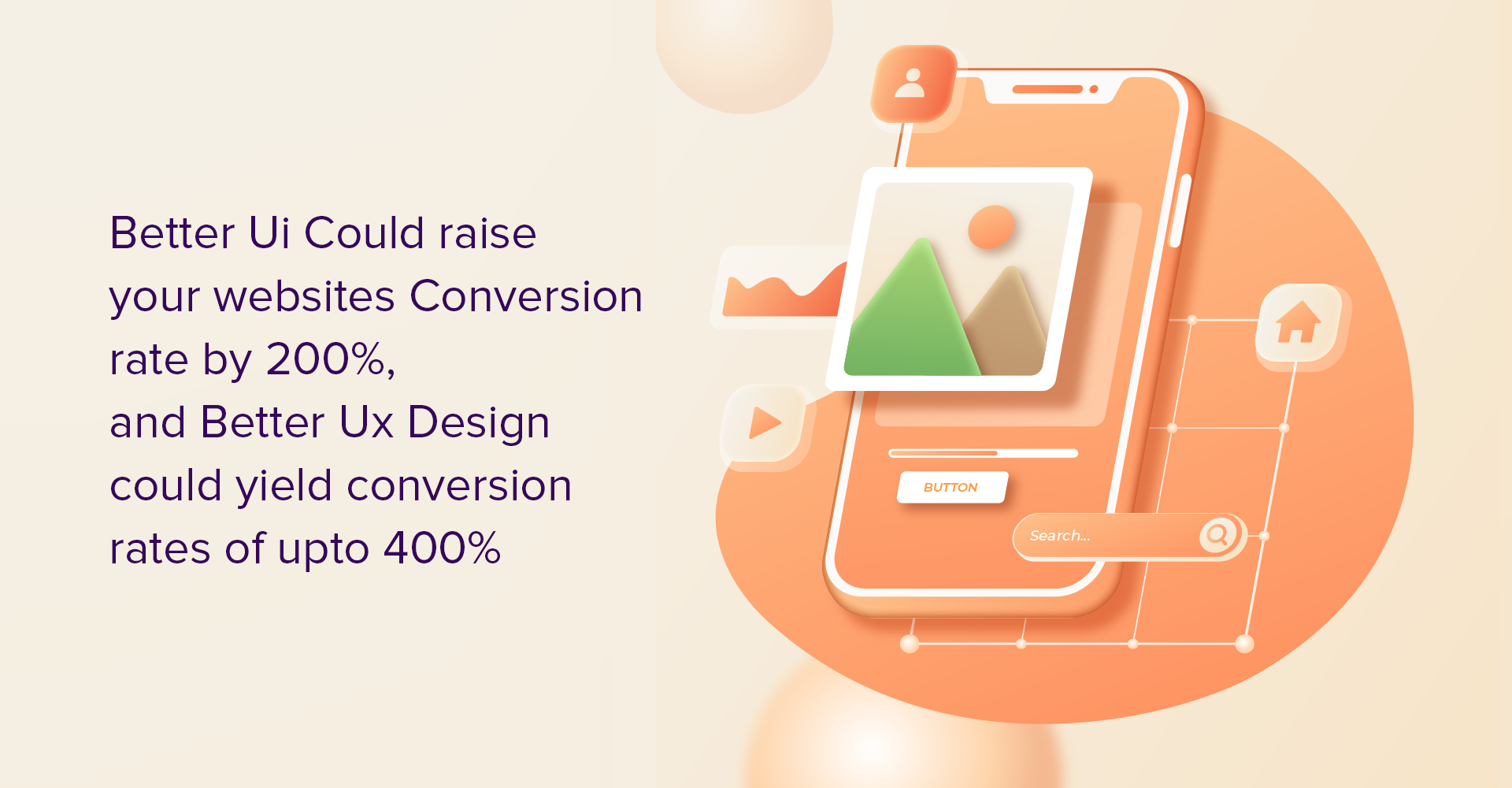 Get loyal customers
Research has shown that 85% of consumers prefer mobile apps to mobile websites. Moreover "conversion rate on mobile apps is 21%, compared to 6% on mobile websites"
Customer loyalty and ROI go hand in hand. You can acquire customer loyalty by providing them with an enriched experience to your users. One of the predominant factors to be taken into account is the increased number of user testimonials. You can forecast that more people will write something favorable about your products when their user experience is phenomenal. So it really is a must to prioritize user experience above anything else.
Helping to build a recognizable brand
There are thousands of mobile apps launched in the market daily; in fact, there are 3,739 apps added to the google play store daily.
How do you stand out in this competitive world?
The simple answer is UX and UI design.
An intuitive UI design and UX can help you to stand out from the market
One great example of this is the Waze app.
Its peculiar approach to UI design makes it stand out from the crowd, and the driver icons are instantly recognizable and witty.
The Waze app holds a perfect charm that keeps many of its customer base sticking to the app.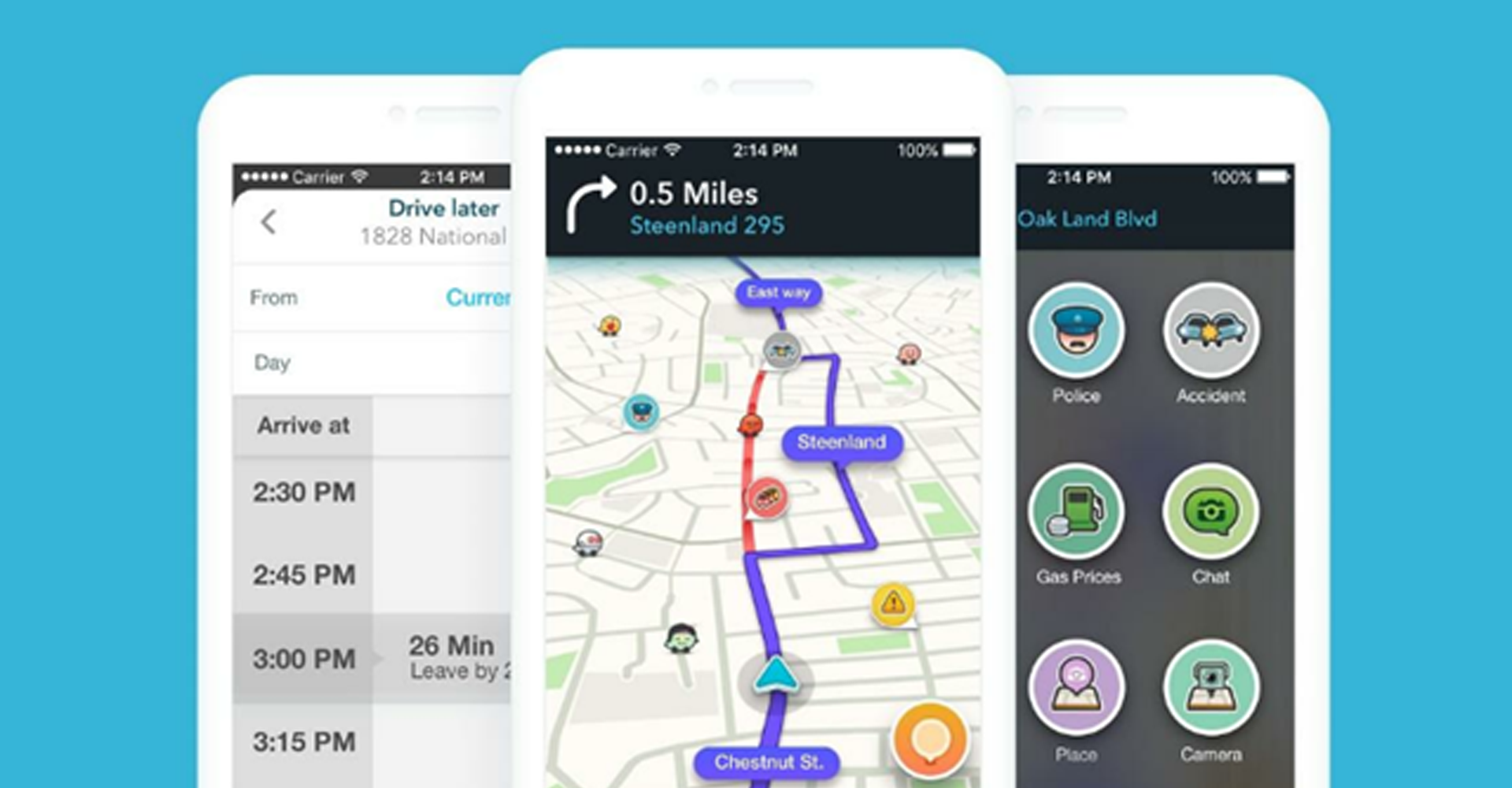 UI design and UX experience will be pivotal when two competitors are on the same path and looking to stand out in the market.
Let's take the example of Uber and Lyft. They have the same functionality and usage, but the only differentiator which sets uber apart is its UI|UX design factor.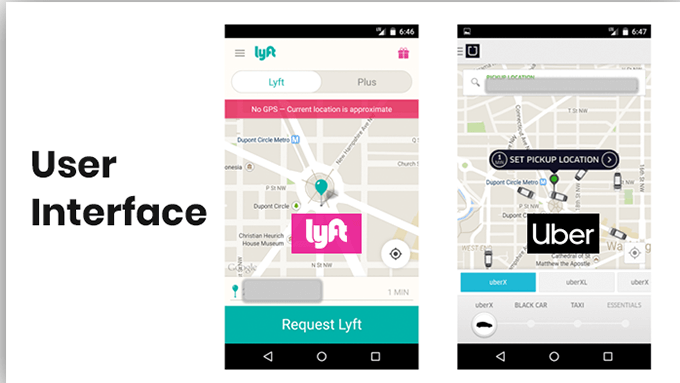 The key takeaway would be the mobile apps UI is the most crucial factor that sets the bar high amongst the competitors.
Reducing the need for instructions
A mobile application with an outstanding UI and UX design is more intuitive.
This factor not only eliminates the use of help manuals to get started, but it makes the users more inclined to use the app, and they eventually become loyal customers of your business.
Imagine how you feel when you first use an Apple device and the impression you get when you pick it up. This should be your benchmark in UI design.
The main benefit of this would be to reduce friction.
Friction is anything that hinders the user from using your app. Too many unnecessary steps from one point to the other is an example.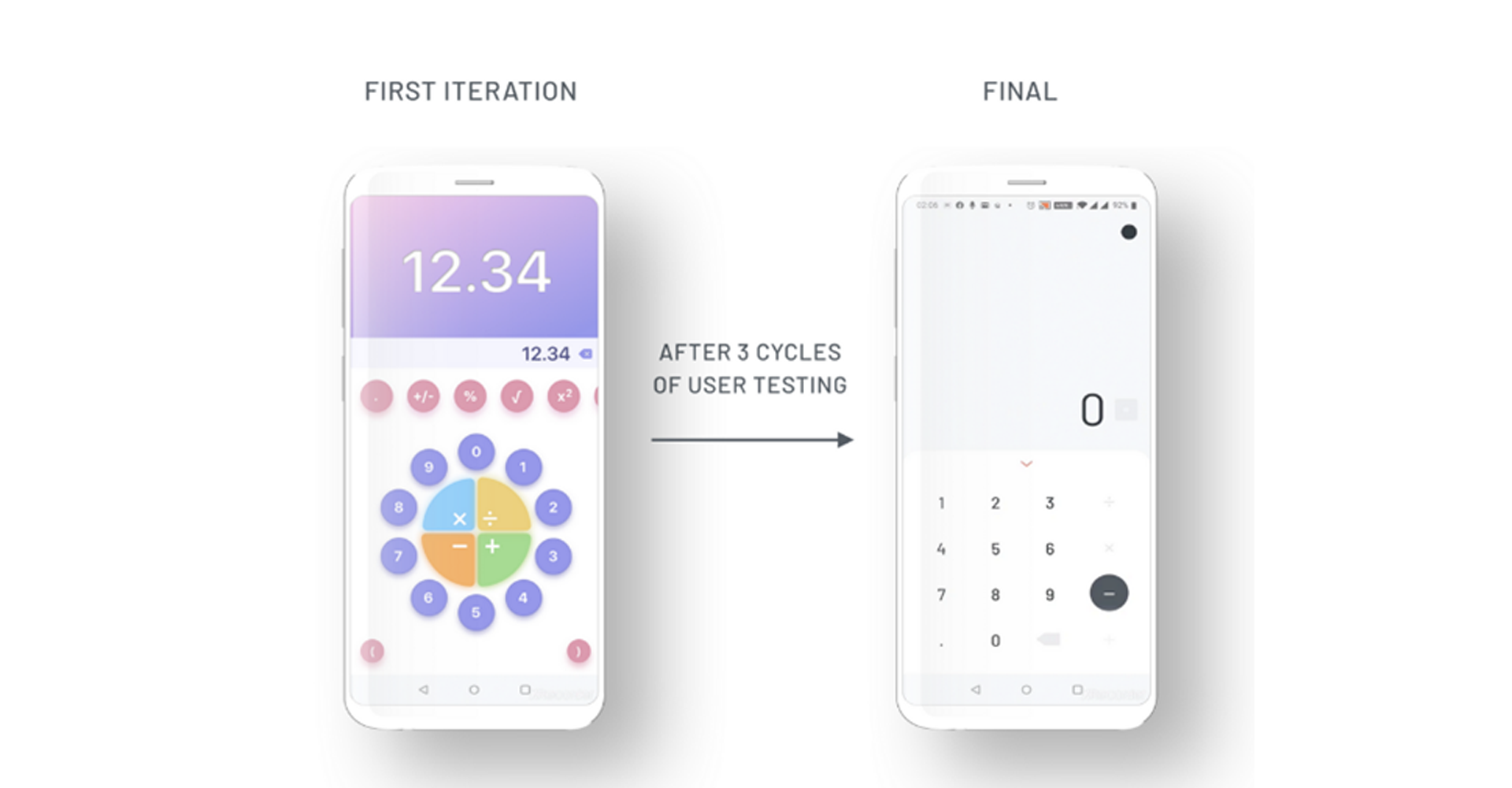 An interesting case study is about the calculator app by Raunaq Shah tells the importance of UI.
Shah came up with the challenge of designing a minimalistic calculator app.
He started by exploring some of the established rules that, on deeper inspection, actually didn't make sense UX-wise.
He then later made it simple with an intuitive UI, and that pulled it off well.
Minimizing the development costs
With an impeccable UI and UX design , you will save a lot on the cost of developing the mobile app.
The typical cost structure of developing and designing a mobile application.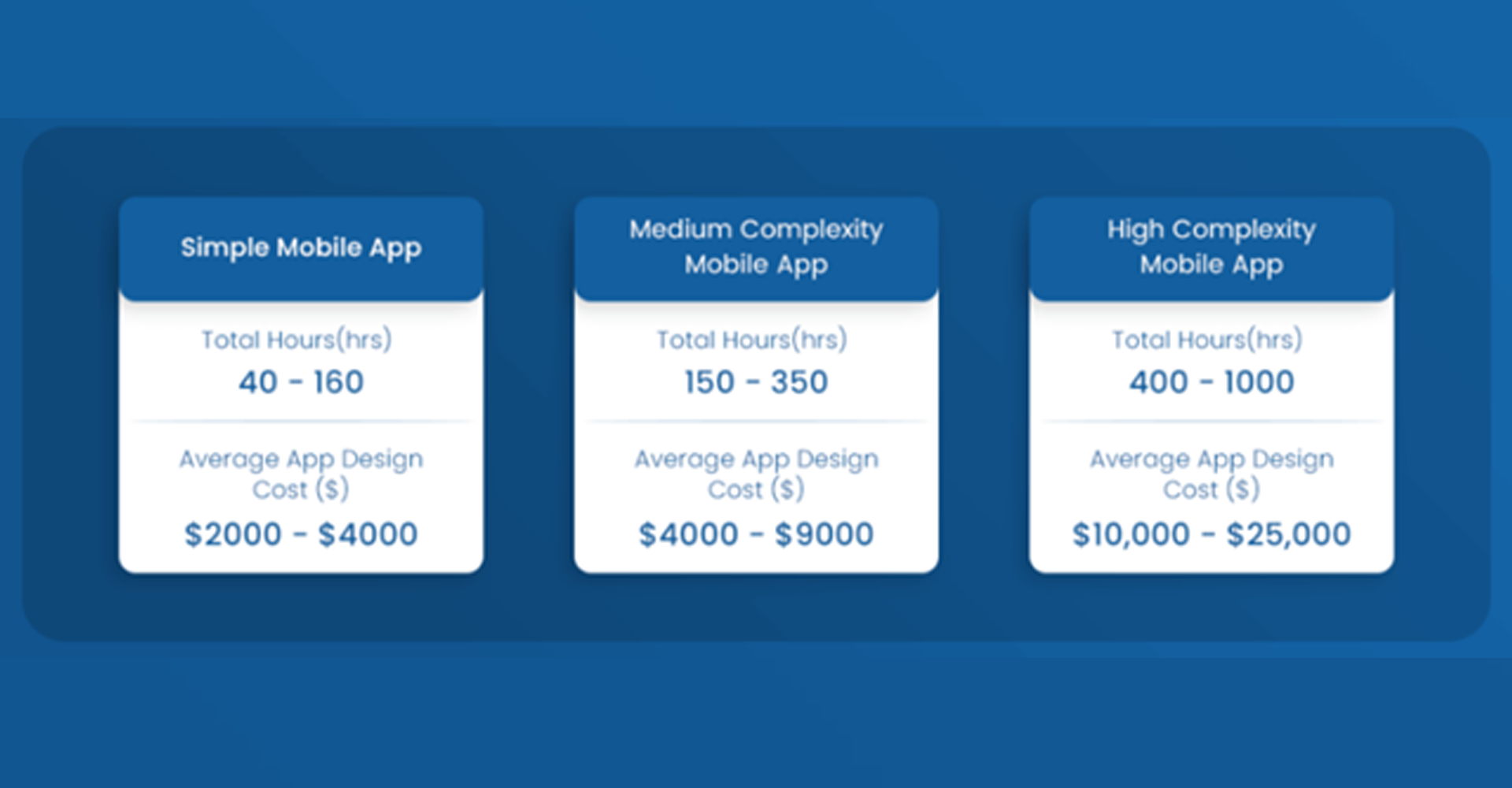 Imagine your mobile app has poor UX design, and you should redesign and develop it. It might cost you around $4,000.
Concentrating on UI and UX design can help you avoid these costs.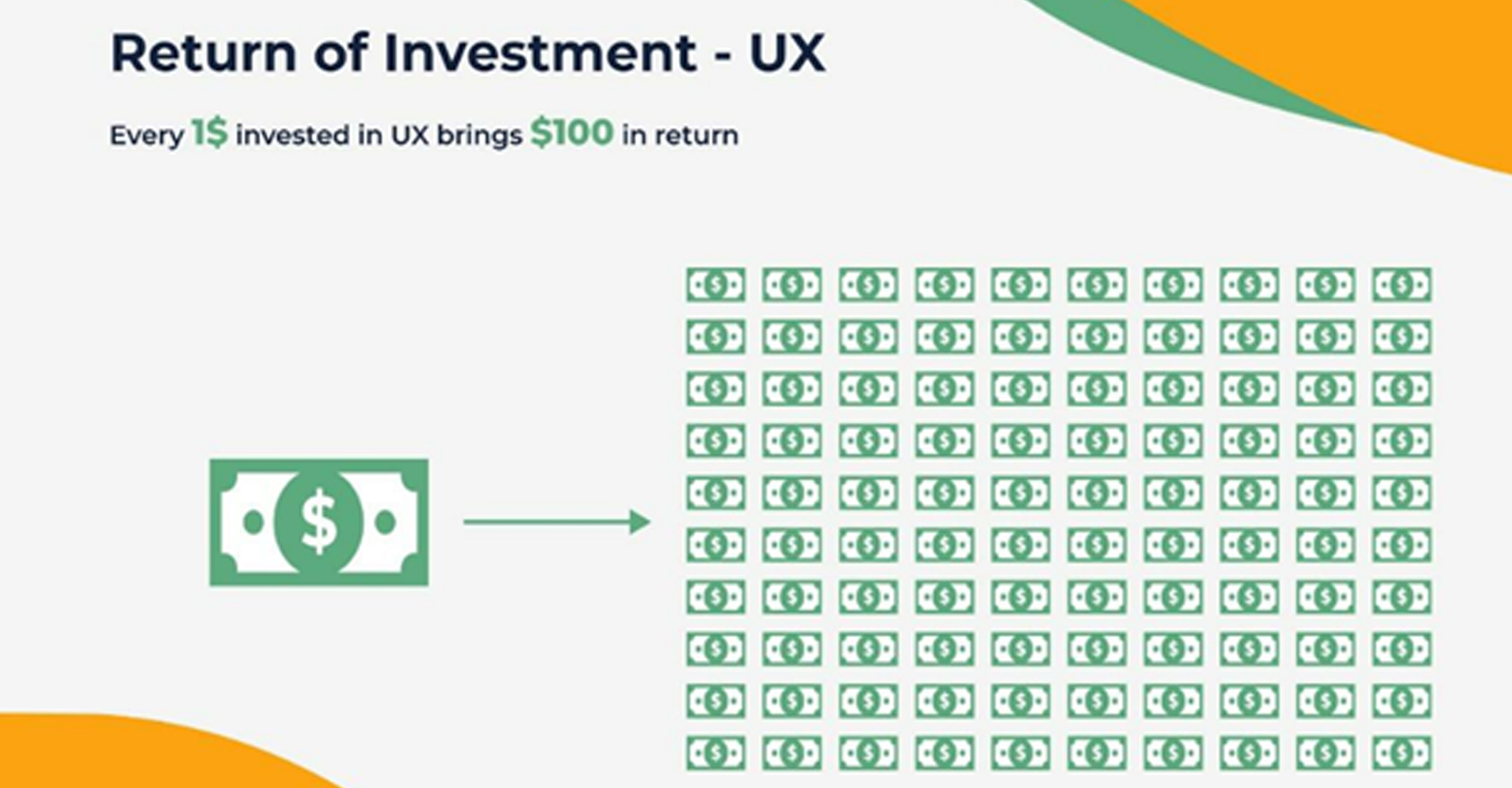 According to Jacob Neilson, the guru of web page usability, it is 100 times cheaper to do it before writing a single line of code.
"An often-quoted statistic is that for every $1 invested in UX, you can get $100 back. And when UX design is executed properly, this is possible."
Secure High Rankings in App Store
A phenomenal UI | UX design can always help you to go the extra mile. It can even lead to a higher app store ranking, leading to more conversions and downloads.
You can influence your download rate blended with app store optimization and marketing efforts. This leads to a high ranking in the app store and helps in more conversions.
Numerous key factors can be influenced by UX design.
First and foremost is the UI design. A half-baked designed interface that's cumbersome for users to navigate will be ranked lower in the app store.
The next factor to be considered is your app's total number of downloads and uninstalls.
App store optimization and marketing efforts can have a positive impact on the download rate.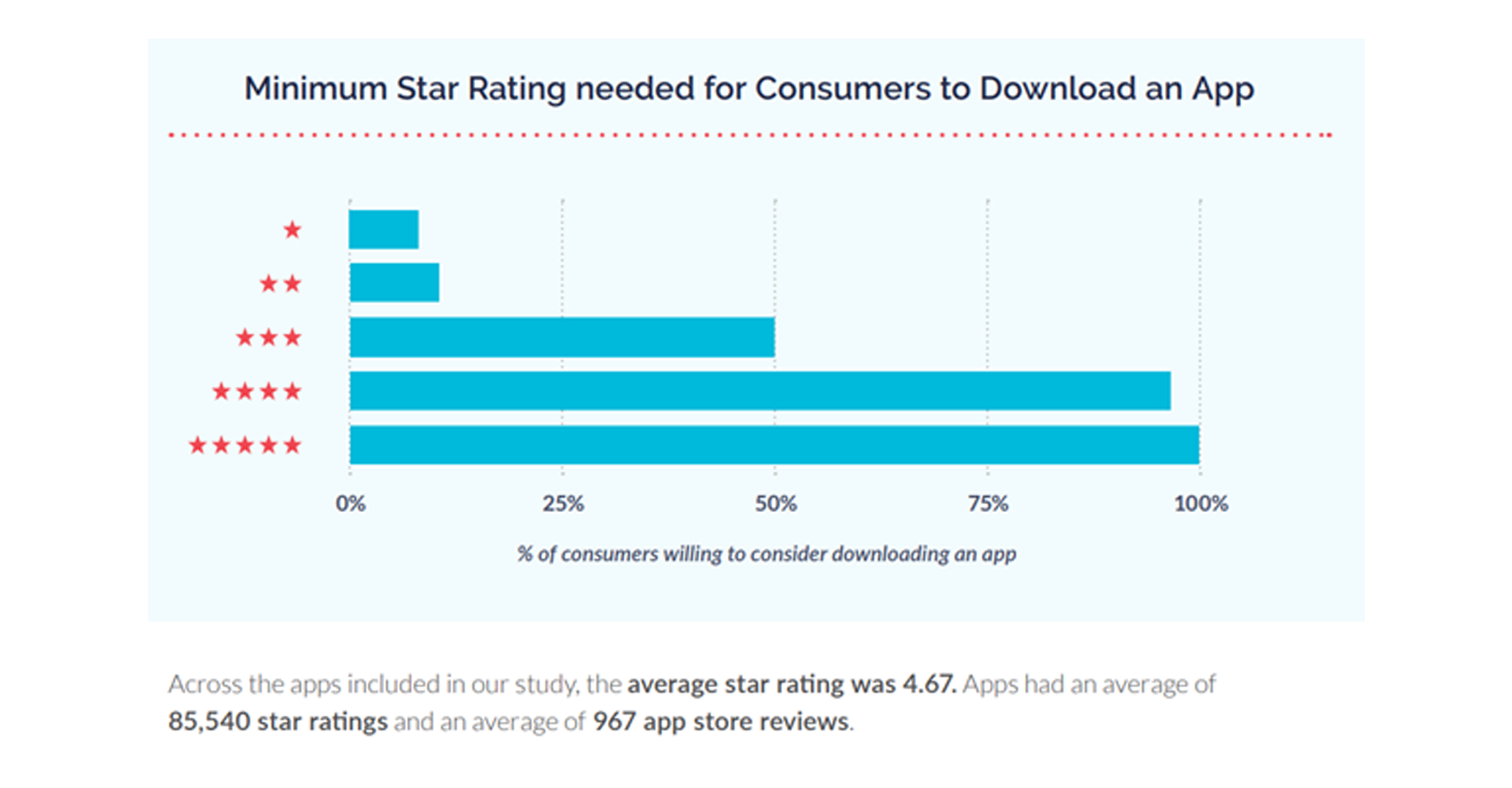 On the contrary, the uninstall rate is mainly caused by poor UX. If your app has a stunning UX, then there's a greater chance that users will be glued to it, and this is how your app's UI design can indirectly affect its ranking.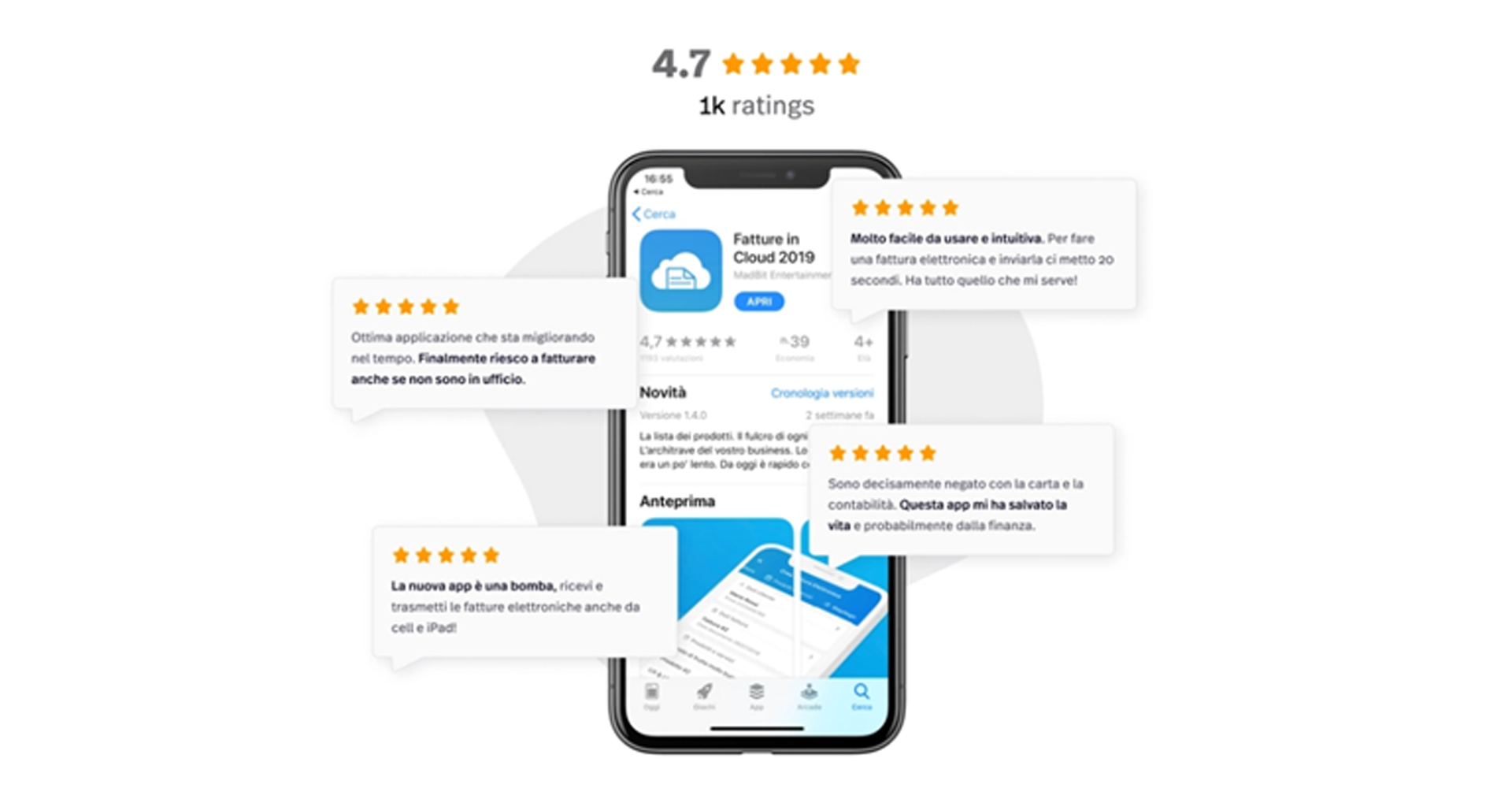 Again, this is a direct result of a remarkable UX. If users have a strong affinity for using your app and if all the problems are being solved, they will surely drop positive reviews.
This results in higher rankings in the app store, which results in higher conversions.
Creating a good first impression
A flawless UI |UX Design is pivotal in creating the first impression that gets users to keep coming to you, and it helps in engagement with your mobile app.
According to an Apptentive study , it's so prominent to keep your retention rates up.
According to recent stats by CXL, it's evident that the majority of the people focus on the app's design, and it makes a daunting first impression.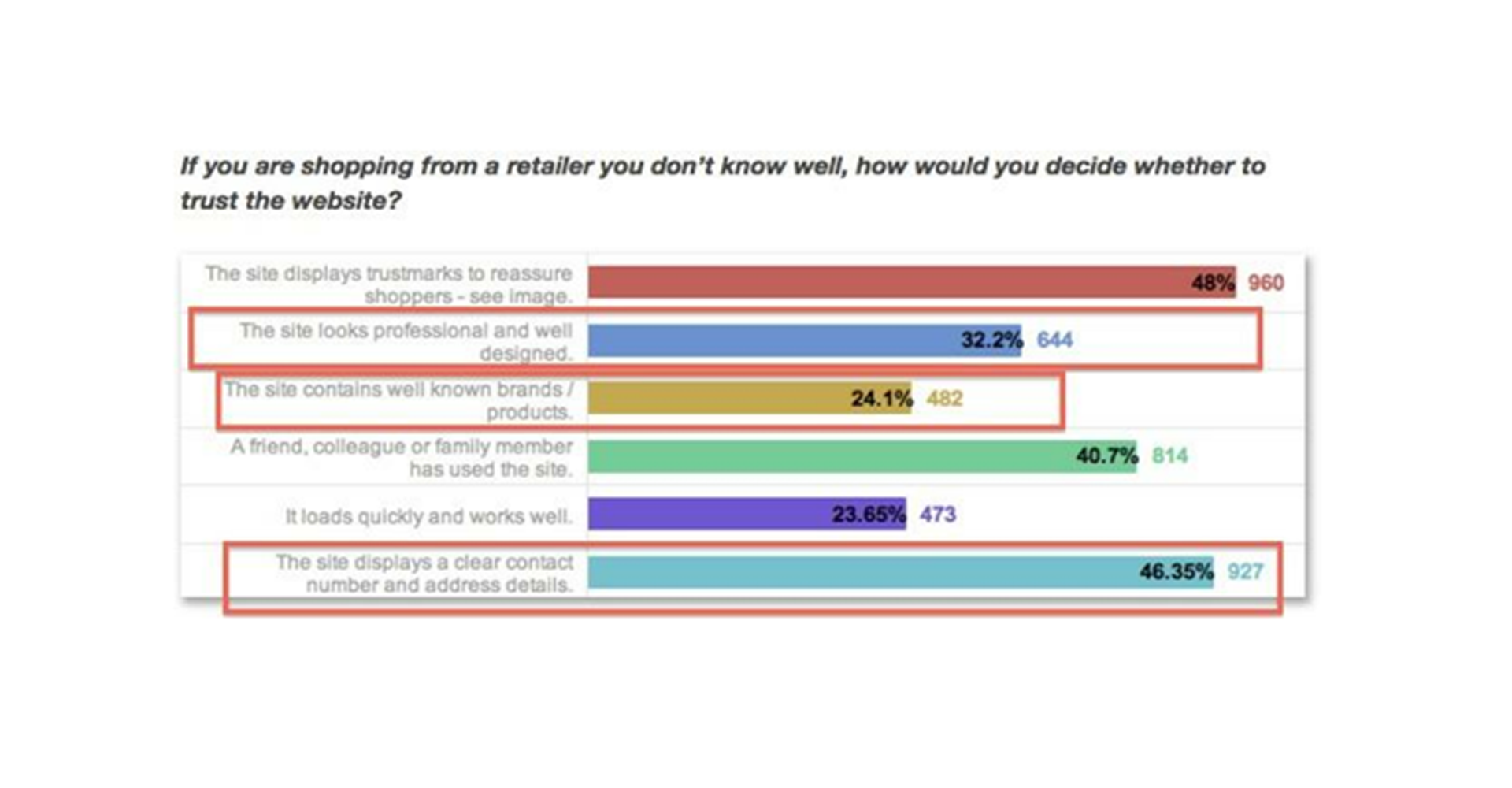 Check how mobile and web design is essential in cultivating trust in new users. It's all deep-rooted in human psychology.
First Impressions are all Design Related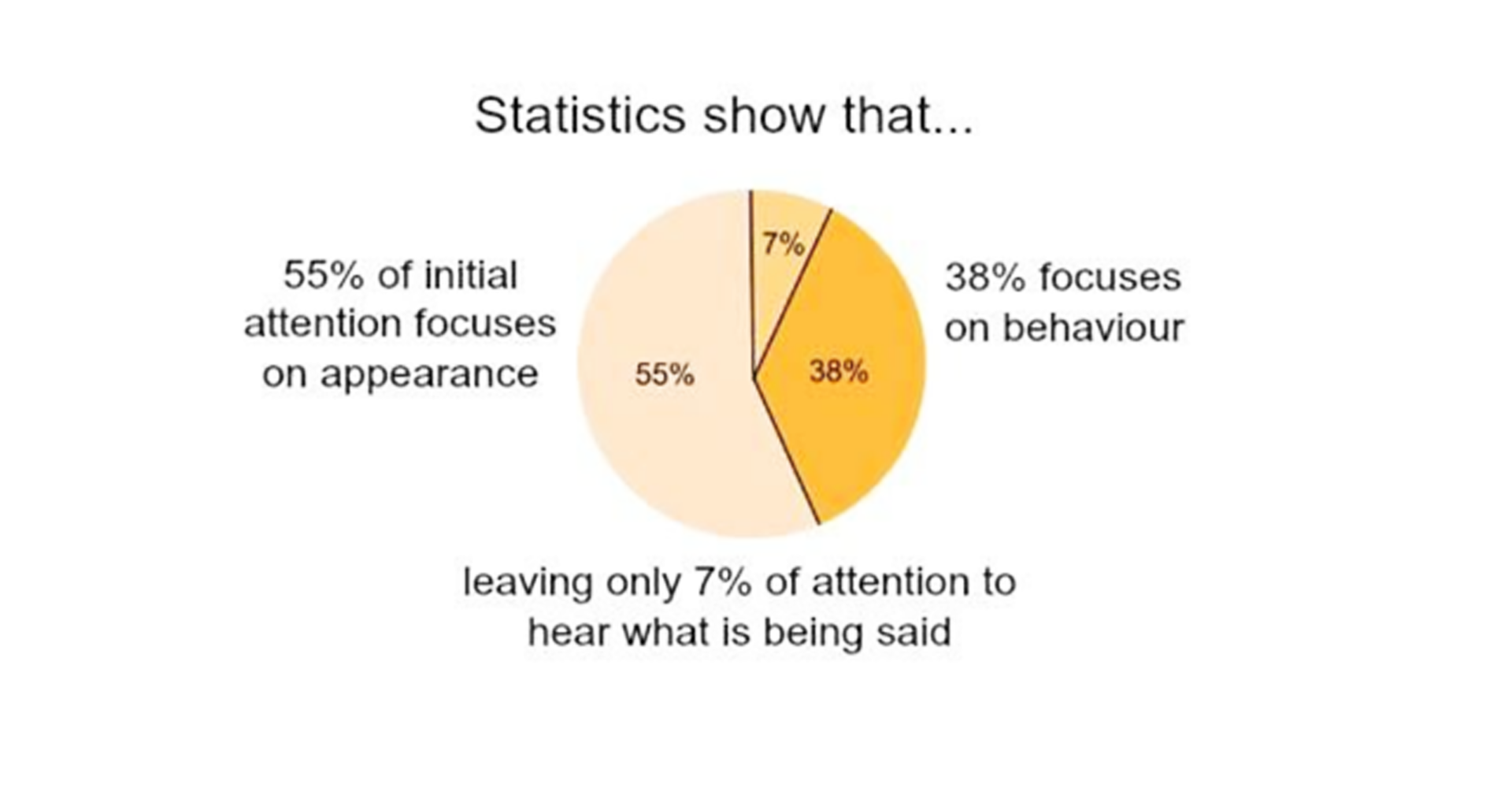 Studies show that 55% of the initial attention focuses on appearance and design.
It takes only seven seconds for people to form a first impression about a business.
Having a strong UX factor in the beginning paves the way for Versatile mobile applications.
For example, Duolingo's onboarding screen instantly communicates the witty nature of its UI |UX design.
The branding elements such as Color combinations, Logo designs, and most importantly, when you are aware of the most important features that constitute the mobile app design , the higher you can expect the brand marketing efforts.
The key takeaway is UI| UX design is the holy grail of many companies, and if it's flawless, it can lead to higher brand recognition and ROI.
Conclusion
According to a report by Forrester, sites with a "superior user experience" can see visit-to-lead conversions up to 400% higher than those without.
It's so evident and clear that UI|UX factor is a key ingredient for your mobile application's success. UI|UX design could be more challenging, and it takes a lot of planning and prototyping.
As a successful mobile app development services company , we clearly understand that your users experience is determined by both content and visuals inculcated into the mobile app.
At Deventure, we create simple and usable products for web and mobile design. Our human-centric design approach will enable us to understand your customers, recognize pain points, and deliver customer-centric solutions that enhance the brand experience.
Get in touch with us right away to enhance your UI| UX for your app.