Mobile apps offer a new growth angle to the business. These apps account for more than half of the time spent by people in this digitally oriented world. Building a smartphone app requires an ingenious technique and a company with a qualified team that can understand the essentials.
Deventure is a company that offers a full-stack of software development to build innovative solutions for mobile app development and web development.
About Deventure
Deventure has indulged in software solutions since 2015. They streamline work to help clients achieve goals. Along with offering services design, UI/UX, web, and mobile development, the company focuses on delivering every solution innovatively and efficiently. Being a full-stack company, the firm leaves no scope for poor communication between clients and them. Thus, at the end there is no gap between what the company offers and clients requirements, hence, the final product is able to fulfill the expectations of clients.
The teams are structured in departments so that the development of any project remains undisrupted. Their dedication to the clients' needs helps foster a good relationship with them.
The Research Process of GoodFirms
GoodFirms is a research, review and evaluation platform that assesses various companies registered on their website based on parameters such as Quality, Ability, and Reliability. A team of expert analysts examines the companies that exceed expectations in delivering services. The evaluation process helps seekers find an appropriate company that can serve their needs.
Similarly, the renowned researchers of GoodFirms assessed Deventure and found that it has been offering outstanding services in the field of software development. Following is a summarized evaluation of the company and its services:
Mobile App Development: The Best Way to Interact With Customers
Mobile applications have played a dominant role in the smartphone market. Right from Android to iOS mobile apps, the firm provides powerful solutions to businesses. The business can build its service platform using mobile app development to connect with their target audience. Similarly, Deventure works with a commitment to go against the grain because they strive for excellence. The delighted customers have applauded the company mentioning their ability to work constantly and efficiently. The clients have also expressed their happiness regarding the transparency and forward-thinking of the company. The company works with a mission to not just design and code but to deliver solutions for the company's success. Moreover, they work to believe in the seamless development and execution of unique projects.
The firm operates on the belief to deliver high-end software development services to its clients that can accelerate their growth. The continuous effort of the company has made them rank in the list of top mobile app development companies in Ireland at GoodFirms.
Blaithin Brady, CEO at Medical Process Innovations Ltd., has given a 5-star rating to the company mentioning her views: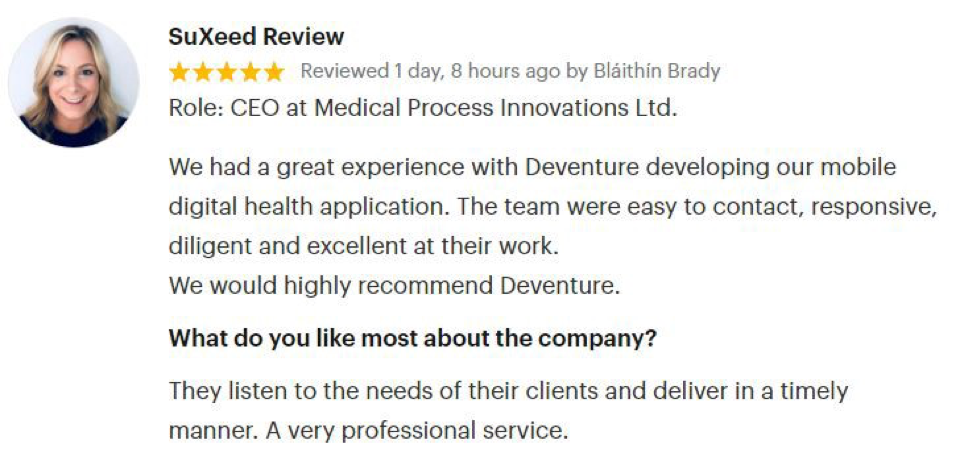 Software Development: The Right Way to Accelerate Business Growth
Software development is done using a specific programming language that involves a series of programmed code. It is an iterative process that needs planned initiative combining various stages. It is difficult to imagine a business without any software. With the change in technology, there is also a change in the operating of business; thus, companies tend to focus on compatible solutions. The development of software is a challenging process that requires a focused and collaborative team that can deal with every complexity involved in the process.
Deventure has a team of highly skilled professionals who are specialized in delivering CRMs and E-learning software for companies operating in business aviation, education, healthcare, telecom, and workforce management. The knowledgeable team of the company adheres to its mission of offering products based on the exclusive demands of clients. All these factors have made the company rank in the list of top Romanian software developers at GoodFirms.
About GoodFirms
Washington, D.C. based GoodFirms is a maverick B2B Research and Reviews Company that helps in finding Mobile App Development, Software Development, and Web Development rendering the best services to its customers. GoodFirms' extensive research process ranks the companies, boosts their online reputation and helps service seekers pick the right technology partner that meets their business needs.