SERVICES
We build and deploy bespoke software with a major focus on both quality and speed to market. Deventure's multi-disciplined development team offers a cost-effective approach because we deliver UI/UX design, custom software development and quality assurance testing all in-house. We have refined our processes over the years to ensure that our customers are the ones that benefit from our efficiency. When you become Deventure's partner you don't just hire a software development company, rather make an investment in a relationship that gives you a return on your digital investment and frees you up to do what you do best.








PROJECTS
From the beginning, we have supported many businesses who decided to embrace the power of digital transformation. We have helped our diversified client base digitize many different kinds of business processes. To name but a few examples we have delivered CRM development for recruitment businesses, a trading app for beginners, a healthcare app for postoperative patient management; or the travel social media app for receiving travel recommendations from close friends.
FEATURED
RECRUITMENT
EDUCATION
MARKETING
HEALTHCARE
FINANCIAL
TRAVEL
HOSPITALITY
OUR OWN PRODUCTS
Please see our off-the-shelf products we have built from scratch and let us pick the most suitable one for your business needs.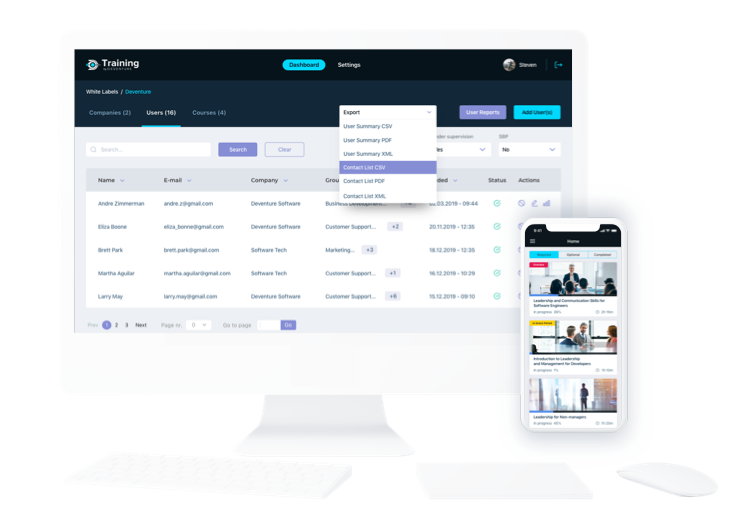 TESTIMONIALS
The app allowed the client to reach a large number of new, younger customers. Their team was very communicative and frequently offered progress updates.

The team is very skilled, knowledgeable, and well managed at all times, working diligently to understand the need and then effectively meet it.

We had a great experience with Deventure developing our mobile digital health application. They listen to the needs of their clients and deliver in a timely manner. A very professional service.
Deventure's dedication to client success sets them apart from other vendors. They are communicative and forward-thinking, always looking to improve the final deliverable.

Their availability stands out to me: we can call Deventure and rely on them 24/7. If there's a tight deadline, they'll work after hours to make it happen. They take ownership of the product as if it's their own.

The final product fulfilled expectations and has been well-received internally. Their clear communication style fostered a strong partnership and quality work.

They work around the clock to make sure their client is satisfied with the product.

They mapped the process from the beginning, delivered in time and within expected cost. I would recommend them 120%. I will use for other projects I have in planning and have a second project with them running now.
Deventure built us a complex e-commerce solution in a ten month period. Each challenge we met during the development cycle was solved by them. We are extremely happy with our product and will work with Deventure for future enhancements.
The documentation was written in the way we wanted, and they managed to do it very quickly. Their ability to adhere to code and testing guidelines was notable.
Deventure exceeded all expectations for us and continues to do so. The team is constantly and consistently working on their product to add value to what is a great product.
They take customer service very seriously. The design team is full of experts that have unique suggestions and ideas. They took the initiative to implement design changes, which ended up being phenomenal.

We researched Xamarin mobile app developers and found Deventure online. After looking through all the reviews about the company, it was a no brainer to hire them!

With Deventure's input, we created a much more intuitive and user-friendly platform and we are delighted with the outcome. I was so happy with their work, that I have already hired them for our next project.
DO YOU HAVE ANY QUESTIONS?